Owner Testimonials from Trifecta Event (November 2021)
Super Petrel Chief Pilot Shevy Shevalier (May 2021)
Super Petrel owner testimonial Mark Zieglar (May 2021)
Super Petrel owner Frankie Ridolfi (April 2021)
Super Petrel owner Jay King (March 2021) MAY 2021
I recently purchased a previously owned Super Petrel Turbo. I located this aircraft on Trade-A-Plane and contacted the seller in Virginia. Even though I did not make my purchase from Super Petrel USA in Ormond Beach, Florida, I was immediately contacted by them and welcomed to the Super Petrel family. I had my newly purchased aircraft inspected and ferried to my location in Boulder City NV by Admiral William Gortney (USN RET) and Captain Mark Ziegler (Navy Blue Angle Pilot). Mark (Call Sign Ziggy) and Bill provided my ground training, then Ziggy spent several days proving my flight instruction. I now have bragging rights and can state that I was trained to fly my aircraft by a Blue Angle Pilot. Overall, I could not have been more honored and pleased with my new friends and my training.
Since the completion of my training, I have now had the opportunity to just fly and enjoy this fantastic aircraft. I have owned many aircraft in the past and the Super Petrel is definitely one of my absolute favorites. It is everything it is advertised to be and more.
In my part of the world, it gets hot, very hot! One of my favorite things to do, is fly with the doors off. Yes, you can do this in a Super Petrel, it says so right in the Pilot Operation Handbook (POH). At cruise, it is noisy as expected. As the speed decreases, the noise goes down as well. I was very surprised at how quiet it was when operating on the water (doors off) and did not get wet as I came off the step. The water takeoff was exactly the same, fantastic! Here are the three things I look for when I fly with the doors off an airplane:
Can I hear the radio? YES!
Can the traffic hear me? YES!
Will my glasses, headset and ball cap stay on? YES!
My experience with the Super Petrel LS and Super Petrel USA in Ormond Beach, Florida has been two thumbs up. I highly recommend the aircraft and the company.
Roger Williamson N568SP - Super Petrel LS Turbo - May 17, 2021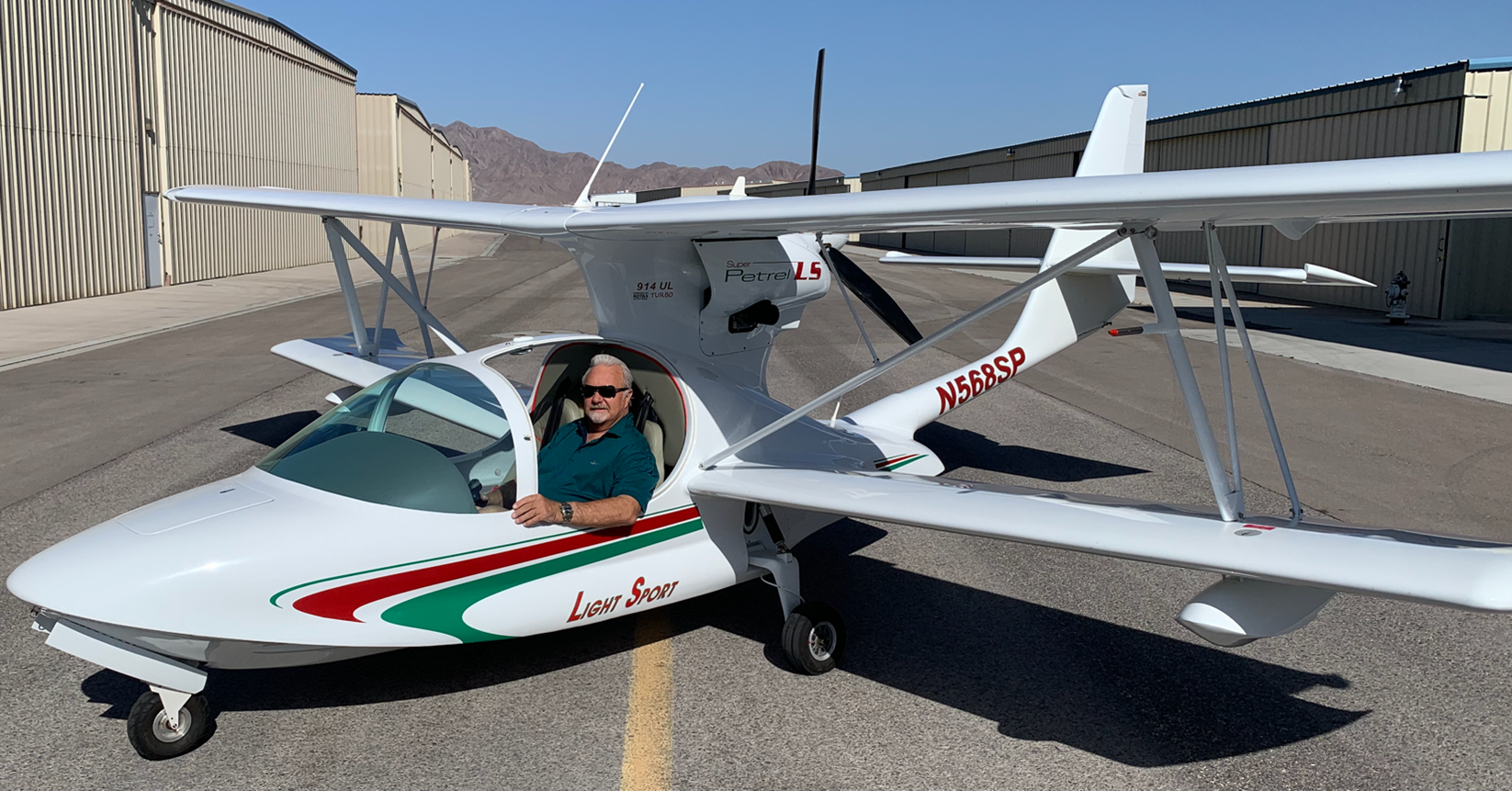 Montana,..... 5 degrees (F) and sunny.... waiting for Summer!!! Is coming?....there was ice floating down the Flathead river this morning.
The ship is everything I expected and more... I can't believe the quality of the craftsmanship. Structure, design, composite and fabric. We're going to really enjoy it. The acceleration is unbelievable, and the ship so responsive... (and so simple to operate). We got off the runway here with 45 degrees F at 3000 feet MSL in less than 600 feet. (with two fat guys and 15 gallons of fuel , and I wasn't even trying).. We had a great time up here with Mike, even though the weather sucked and we only got to fly one day out of 3...thanks for the contact. He's very knowledgeable and a great instructor. We've got him scheduled to come up again the first of May when (hopefully) the weather is better. N406SP looks BEAUTIFUL In MY hanger...
Thanks, Roger, for all your help and all you do. It is really appreciated
Tom S.
March 15, 2020