Roger E Helton is the President of Super Petrel USA, Inc. at the Ormond Beach, Florida facility. He began his Super Petrel LS adventure in December of 2016, just a month after earning his Sea Plane Pilot rating at Jack Brown's.
After separating from the U.S. Air Force in 1970, he was employed by Heathkit Electronics in Cincinnati, Ohio. In 1972 after two years of working in electronics he returning to Miami of Ohio to major in Aeronautics. During this time at Miami, he earned his Private Pilot and Commercial Pilot's licenses. In 1974 he attended Spartan School of Aeronautics in Tulsa, OK there earning his professional ratings. He flew three years as a flight instructor in Dayton Ohio and at Miami University, Oxford Ohio then in 1975 began a career as a corporate pilot flying Kingair's, Citations and Learjet's from the Cincinnati Lunken Airport. 
In 1987 and at age of 40 he began a new chapter in his aviation career as a cargo pilot for Ryan International Airlines flying sideways as a Flight Engineer on the Boeing 727. 
In 1988 he was interviewed along with 12,000 other applicants for a new airline startup. There were only 750 positions available and the competition was very tough. This was the beginning of the UPS Airline Operation. He began as a Boeing 757 First Officer and in 13 months upgraded to Captain on the Boeing 727. Five months later he changed to the Boeing 757 as Captain. From corporate pilot to Boeing 757 Airline Captain in 19 months. "This industry is all about being in the right place at the right time and a bucket full of luck". 
Seven years later he changed again to the Boeing 747 fleet and remained there for six years. Airline retirement came in 2007 at age 60 and the next chapter of his aviation logbook came with the Civil Air Patrol flying USAF missions in Search & Rescue, Disaster Relief and Homeland Security. After thirteen years of volunteer service, he stepped down to finally retire. That lasted two months! He was introduced to Mr. Rodrigo Scoda by the Ormond Beach Airport Manager, Mr. Steven Lichliter and as they say, "the rest is history"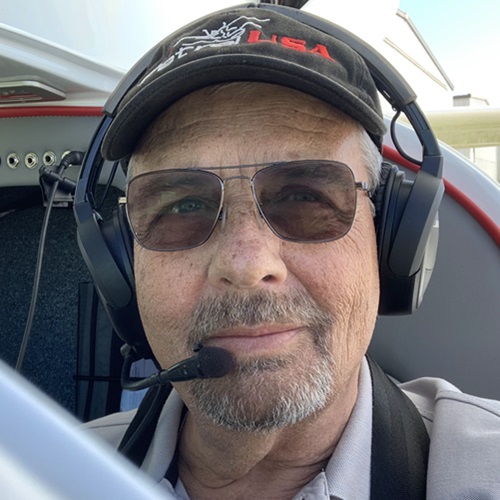 In His Own Words

 

"From the very beginning of my flying experience, I have always flown aircraft with a professional attitude. In other words, I never flew just for the fun of it. That is until I began flying the Super Petrel LS aircraft. This has definitely been the most fun I have ever had in the air. It is such a pleasure to fly a demonstration flight and watch the face of the other person as we touch down on the water. If they have never experienced it before, it will be a lifetime memory. I know it was for me. Thanks to all my friends and family who have gotten me this far and allowed me to fulfill my dream". I have been blessed.