Randy graduated from high school in 1996 from Fairfield, Ohio. Not quite sure what the future was to be, he had a game changing conversation with his dad. Like father, Randy enlisted in the US Air Force. Little did anyone know, that first enlistment would become a career. Randy trained to become an Air Force Crew Chief at Sheppard AFB in TX on the world's greatest fighters ever produced, the F-15 and the F-22.  During a nine-year assignment to Langley AFB in Virginia as a Crew Chief on the F15, he was deployed to the middle east with his unit to serve during Desert Shield. 
While deployed he and his wife Kara had their first child, Kaylynn. He came home to meet his daughter several months later. Returning home and a few years later, he was selected to become a Crew Chief Instructor at Tyndall AFB in Florida for new airman coming from AF Basic Training.  The Tyndall AFB instructing assignment lasted for nearly five years and in typical Air Force fashion, re-assigned him and family to Joint Base Elmendorf-Richardson, Alaska (JBER). 
During his time in Alaska he would become the Flight Chief for over 90 subordinate troops.  Having "crushed it" as they say, for two years, he was reassigned as the 3rd Wing Quality Assurance Chief Inspector and from which he retired and returned back to civilian life.
Randy has an Aviation Science degree from The Community College of the Air Force and is Certified Airframe & Powerplant (A&P) mechanic.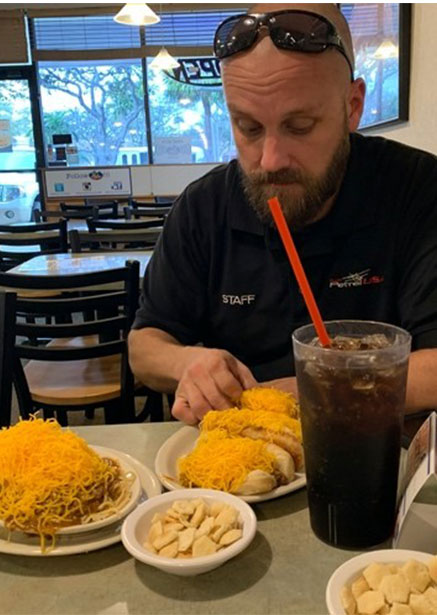 In His Own Words

 

"In my 20+ years of maintaining aircraft, the last two years at Super Petrel have been absolutely "pure fun"!   I wasn't sure if I wanted to stay in aviation when I first retired from the USAF and thought I might try my hand at something new. That did not last long.  I had the opportunity to retrieve an aircraft from West Texas and bring it back to Florida and Super Petrel. Ever since, I haven't looked back."

Note: His favorite food is Cincinnati's Skyline Chili.